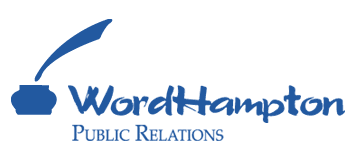 What People Say

"WordHampton has their finger on the pulse of social media. I use them to stand out from everyone else."
— Michael Esposito
Owner of Vittorio's Restaurant & Wine Bar
What We Do
Our mission is to build client reputations and revenues. We do this through strategic and creative thinking, deep media relationships, social media savvy and client partnering.
Strategic and Creative Thinking
We have built our reputation on delivering a strong media presence and as a result demand for our clients' offerings. This starts with clarity on each client's market position and what they want to achieve given the issues or opportunities of the day. We identify critical audiences, targeting the media that will influence them and shaping the messages that will motivate them. Some clients have hard news or need a creative spark. Others wish to stay out of the headlines. We offer every client the strategic and creative thinking they need, whatever point they are in their business cycle.
Media Relationships
We pride ourselves in the strong media relationships we have built since our inception in 1992. Our team has deep skills and know-how in working with the media but also a penchant for constant learning. Today we tell our clients' stories through print and broadcast media but also social media. The media are our business associates. They know from working with WordHampton that we deliver. They appreciate our ability to think like journalists while at the same time representing our clients' views and news. They value our professionalism, creativity and accountability.
Client Partnering
Our clients have acknowledged the need for media relations. They recognize us as authorities in what we do and accept our strategic direction. They invest in media relations because they know it contributes to positive outcomes for their business. They do this through adequate budgets but also by giving each project the management time and capacity necessary to accomplish goals. Our clients treat us with mutual respect. We advise at the highest levels of ownership and management with the ability to implement campaigns working across all the client's team. We are our clients' preferred communications counselor.
Social Media Savvy
As the media landscape continues to change so does the practice of public relations. Newspapers are shrinking in size as consumers opt for logging on; even CNN has a Twitter account. New technologies are changing the way people communicate, allowing them to create and share information on their own terms — and bypass traditional media's gatekeepers. WordHampton helps companies adapt to the change by pairing the new media landscape with traditional communication methods. Our team will customize a social media component and integrate it with traditional media practices offering clients a complete approach to public relations.